At this point, this blog is solely for my end-of-year reading recaps... Oh well.
This year, I set a goal to read 100 books and I ended up at 105. Some of them were phenomenal and now solidly live in my top favorites of all time. Some I'm disappointed that I ever finished, but they can't all be winners.
As is now my yearly tradition, I'm sharing which books I absolutely loved in case any of my reader friends are looking for recommendations. One of my favorite things about reading is sharing what I love and hearing about what others love. That being said, if any great books you read this year didn't make my list, please share them!! I'm always looking for new books to add to my ever-growing list.
P.S. If any book lover friends want to connect via Instagram, I ended up making a bookstagram account last December. It's where I post my daily thoughts and reviews about the books I read so as not to annoy people on my regular social media feed. I ended up making quite a few book-y friends via Instagram, and I've really found a community that lets me talk about one of my passions--reading! Feel free to message me for my Instagram handle.
Without further ado, here are my 5-star reads from this year (in no particular order because I am not a decisive person):
***I typically gravitate toward thrillers, romance, contemporary fiction, and historical fiction, but a few other genres made the cut this year.
1. The Nightingale by Kristin Hannah
If I truly had to pick one favorite from this year, it might be this book. Kristin Hannah has never written a bad book in my humble opinion, but this one, wow. I think this was the only book I cried while reading this year. The story takes place during World War II and explores the choices and relationship between two sisters that find themselves estranged during the war. This book truly blew me away.
2. The Violence by Delilah S. Dawson
I had no expectations going into this book, and I kind of feel that's how you have to read it. Dawson created a story about a new pandemic only in this one, you don't get COVID; you get an uncontrollable urge to harm those around you. This book has violence (hence the name), a traveling wrestling group, and political undertones (read at your own risk). It's wacky, but it was also highly addictive. I recommend!
3. The Office BFFs by Jenna Fischer and Angela Kinsey
Well, if you didn't like the office, you probably won't like this book. If you listen to the Office Ladies podcast religiously, there's a high chance you will love this book. I obviously fall into the latter camp. This is essentially a behind-the-scenes book with anecdotes from Jenna and Angela's time on set and there's about a million pictures. It's an easy and fun read for any Office fan.
4. Book Lovers by Emily Henry
If she wasn't already, Emily Henry has firmly earned her spot as my #1 author. I devour everything she writes, and her books only continue to get better. This enemies-to-lovers book is a must-read for anyone who loves romance and books.
5. The Unsinkable Greta James by Jennifer E. Smith
Indie rock star, Greta James, joins her father on an Alaskan cruise after her mother passes and her career is at an all-time low. While this book also delves into romance, it read to me like a story about complicated family relationships and navigating grief. I genuinely enjoyed this one.
6. His & Hers by Alice Feeney
It takes a lot to leave me genuinely surprised in a thriller. I read so many of them, many of the plot devices and twists end up blending together. NOT this book. This book left me sincerely shocked. I could not put it down. If you're a thriller fan, do yourself a favor and add this one to your list of must-reads.
7. Lessons in Chemistry by Bonnie Garmus
Lessons in Chemistry was a total 'females rule' book, and I loved every second of reading it. After being doubted her whole life in the sciences, single mother Elizabeth Zott finds herself transitioning from a brilliant chemist to a daytime TV chef in order to support her child. I've never rooted for a main character more than Elizabeth Zott.
8. Cloud Cuckoo Land by Anthony Doerr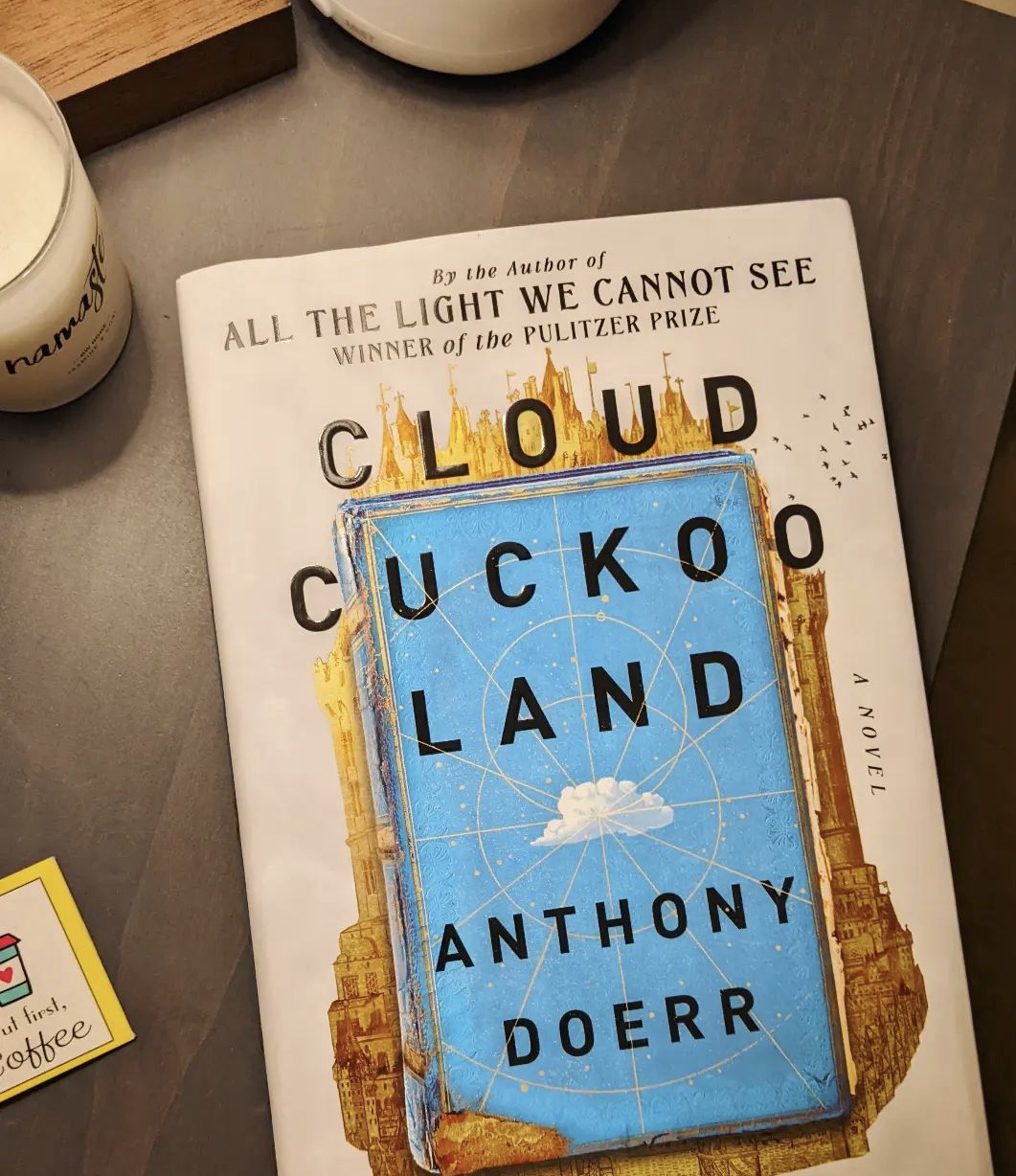 At 600+ pages, this book is no joke. Spanning six centuries and 5 characters' lives, this book finds connection through a single shared story. This story was a challenging one to get into at first (give it the first 100 pages or so before abandoning it), but when the connections started to form I was sold. This book is a feat.
9. How to Be Perfect: The Correct Answer to Every Moral Question by Michael Schur  
If you liked The Good Place, I think you'll like this book. Michael Schur does a nice job of explaining typically confusing (at least to me) ethical philosophies and giving modern day examples so they relate to your own life. I felt smarter after reading this book, and that's a win to me.
10. It Starts With Us by Colleen Hoover
I am the first to admit I am not the world's biggest CoHo fan. She can certainly write, but her books aren't always my cup of tea. That being said, this book was perfect. This is a sequel to It Ends With Us (which admittedly wasn't my favorite). This book took all the heartache that existed in It Ends With Us and turned it into a beautiful and loving story about soulmates. I was so happy with how Colleen Hoover chose to wrap up this story.
11. Alone With You in the Ether by Olivie Blake
I don't really know how to explain this book other than saying it was very angsty and chaotic. Regan is a girl who sees the world as boring and mundane; she wants chaos and less impulse control. Aldo is a boy who thinks the world is too unpredictable and who craves routine. When these two meet by chance, their world opens up to new possibilities. This book felt like something I would have read and loved in high school, and maybe I loved it for that nostalgia factor.
12. Tomorrow, and Tomorrow, and Tomorrow by Gabrielle Zevin
This book won Book of the Month's Book of the Year and Goodread's Choice Fiction for a reason. Set around the world of video games, this novel follows two friends, Sam and Sadie, as they set out to make a game together. This book spans 3 decades of their lives as the two grow impossibly close and then estranged over and over again. It should be noted that this book isn't a love story but rather a story about the complicated nature of relationships--friendship and otherwise.
13. The Light We Carry by Michelle Obama
I am unapologetically a Michelle Obama fan. I loved her book Becoming, and this one was no different. In this memoir, Michelle gives advice for how to face obstacles that life throws at you while connecting to her own circumstances.
14. Sea of Tranquility by Emily St. John Mandel
Again, if I had to pick a favorite book from this year, this one would rival The Nightingale. This book takes place in the past, present, and future all connected by a culminating and mysterious event. This is a short read at only 255 pages, but Mandel packs a good chunk of story into those pages. I couldn't put this book down until I finished it, and I thought about it for days afterward.
15. Carrie Soto is Back by Taylor Jenkins Reid
In second place to Emily Henry, Taylor Jenkins Reid is one of my favorite authors of all time. Her books are magic. She has this masterful way of connecting all of her stories through familiar background characters but still manages to create new and exciting tales with each new book. This one follows a former tennis pro as she makes a comeback to defend her titles. It also explores her complicated relationship with her father. This was a great read.
16. I'm Glad My Mom Died by Jennette McCurdy
The title of this book is jarring, I know. I wasn't sure what to expect from this read, but WOW. McCurdy writes with such vulnerability and strength. I was flummoxed from start to finish. This book is a masterpiece in storytelling, but it is also extremely hard to read with page after page filled with mentions of abuse and manipulation.